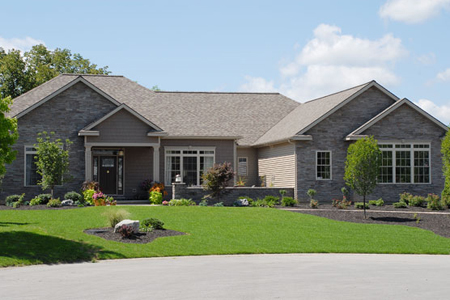 About Zellar Homes
As a small builder of custom homes
in
Syracuse
, NY, Zellar Homes, Ltd, had their humble beginning on an odd lot in Dewitt in the spring of '04 and their projects quickly spread to other locations. With each home, Dave Zellar has become known as a builder of beautiful homes, homes with warm and inviting open floor plans desinged for today's busy lifestyles, with a particular flair for one level living. Dave and his partner, Robin Curtis, established Zellar Homes firmly committed to excellent service and enduring workmanship - all for a great value. Zellar Homes is also passionate about energy efficiency and every Zellar Home is an Energy Star home.
If you're considering new construction, Dave and Robin do their best to bring an ease to the process of homebuilding. To achieve that goal, Zellar Homes invites you to meet their design team who will capture your needs and desires with their imaginative and thoughtful designs. While providing great value, Dave and Robin strive to make the financial approach to homebuilding as stress-free as possible. They'll offer you a variety of financing options to suit your needs. Kristin Curtis of Kristin Curtis Interiors offers invaluable guidance to Zellar Homes' clients. With over twenty-five years as an award winning interior designer with Stickley, Audi & Co., Kristin can offer her help with all the selections you'll be making for your new home. Her gift is the ability to weave your beloved possessions into your new setting transforming your Zellar Homes into your family's treasure!
In just over six years, builder Dave Zellar and NYS licensed Associate Broker Robin Curtis have brought their company Zellar Homes Ltd. to the fore of custom-built new construction in Syracuse, New York. If you're seeking a builder of unparalleled personal service who will build a high quality home customized to fulfill your every desire, you need look no further than Dave Zellar of Zellar Homes.